Click Photography is Tamera Goldsmith, who is unique among Colorado Springs photographers in that she brings a fine art perspective to her wedding photography. Tamera serves the entire front range:  Colorado Springs, Denver, Boulder, Fort Collins, Vail, Breckenridge and Keystone. She specializes in natural looking, documentary style wedding photojournalism, tasteful boudoir portraits with a fashion edge, and fun pinup photography. Tamera also excels in candid, casual family photography and creative high school senior portraits.
Availability is limited. Contact Tamera today to book your wedding or portrait session.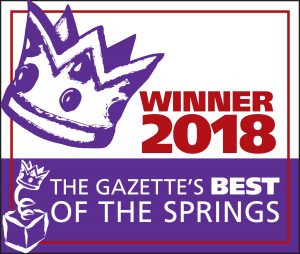 Tamera is a 2018 Best of the Springs award winner.
"Tamera is quite simply AMAZING!! She is so talented, creative and has such an eye for detail. She had an itinerary ready for me weeks prior to our wedding and had all of the shots figured out perfectly. She handled our gigantic (and gregarious) wedding party with ease and grace. She made me not only comfortable, but confident. When I saw the photos, I couldn't believe how perfectly they turned out. Her camera is like an extension of her body. Every time that I see them, I get to relive the best day of my life. She made me feel and look absolutely beautiful! Her professionalism and flexibility are unparalleled!" — Marcea & Mark
"Tamera is truly one of the best! Not only did she capture our special day, but she made us feel so special throughout the whole process! Her bubbly personally is so contagious and makes the wedding stress disappear! She is such a pleasure to work with and truly goes above and beyond for her clients! She captured every single moment of our special day and got shots that we didn't even know were possible! We are so lucky to have found her and could not imagine working with anyone else on our wedding day! You would be crazy not to book her for any special occasions! Words cannot express how truly amazing she is! Such a beautiful person inside and out!" — Anna & Jonathan
"Tamera at Click Photography was ABSOLUTELY wonderful to work with from start to finish. She is very quick to respond with any questions, which of course as a stressed out bride is always very appreciated. All of our guests thought she was great during the wedding and she kept everyone on time, which we heard is always hard. Photos turned out amazing and I would recommend Click Photography to anyone looking for an amazing wedding photographer in Colorado." — Melissa & Josh
"My husband and I got married just over five months ago and although the day went by in such a blur, we have fantastic photos to hang on to for the rest of our lives. Tamera is a joy to work with and she has a fantastic eye for the perfect picture. I personally loved how she would sit down and talk to us like friends, not just another client. We were able to work together as a team to achieve the pictures that my husband and I wanted. My husband is not one for taking pictures, but Tamera worked with us and made the entire experience relaxing and beautiful as well as fun. Tamera went out of her way to make sure we had perfect photos of our special day, but was still respectful of our time being the bride and groom. From beginning to end, the entire experience was stress-less. I can tell that Tamera loves what she does and it shows through her photos. I also did my boudoir shoot with Tamera. These photos were my gift to my husband-to-be the night before our wedding. I had never done a boudoir shoot before and I was pretty nervous. Tamera gradually introduced me to the sexy side of the boudoir shoot and told me to have fun with it, and that is exactly what I did. My photos were very tasteful, but also stunning and very sexy. I would recommend Click Photography a million times over." — Kelsey & Austin
"Wedding photos were really important to me because I wanted something to look back and and to show my family for years to come. Tamera took away any stresses I had and knew every photo to take! Her experience is key because she knew each photo to get and photos I would have never thought of. She moved around like a ninja capturing each special moment. Her assistant was great too! It made it feel like she was able to be in two places at once. Both the guys and gals had photos of us getting ready as well as photos of our special guests. She has a unique eye and is incredibly talented! We would not hesitate to use Click Photography again! As far as Colorado Springs photographers go, Tamera is head and shoulders above the rest!" — Alli & James
"Consider us VERY happy customers of Click Photography! First of all, let me just state how lucky we feel to have scored Tamera for our wedding photographer. We couldn't have found a better fit for our personalities, and as far as how we wanted our wedding day to be depicted in pictures, she absolutely nailed it. Her pictures of our day are simply stunning. It's like she read our minds. I cried happy tears when I saw them. When we started searching for wedding photographers in Colorado Springs, we had no idea who was any good. Tamera's name kept coming up among the vendors we interviewed, and all of our top three venues enthusiastically recommended her. We got in touch with her and we knew right away that she was the one for us! Not only was her website full of absolutely gorgeous photography, her warm personality came through in emails and over the phone.  On the day of our wedding, Tamera was the calm in the eye of the storm. Even when one of my shoes went missing and the timeline went out the window, she remained professional and calm, and that helped keep ME calm. Throughout the day, she and her second photographer Joy worked hard to document all the little moments without being obvious. They deserve every accolade! Justin and I could not be happier with our pictures, and if you're looking at Colorado Springs photographers, we couldn't recommend Click Photography more!" — Amanda & Justin