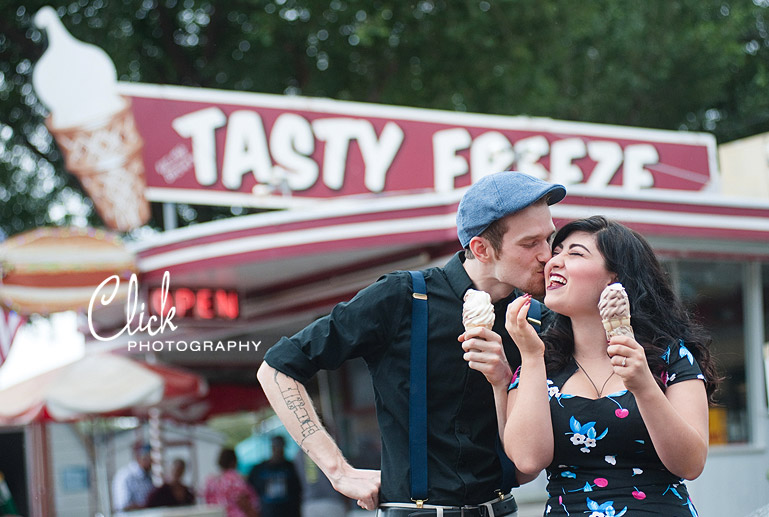 Check out these adorable, vintage themed engagement portraits! I just can't even with these two. I mean look at them, they are too cute! Cody and Diana are finally tying the knot next month after many years of togetherness, and I for one can't wait. They're such a perfect match for each other!
Diana will be wearing her grandmother's 1940s wedding gown on their big day. I'm told it's beautiful and perfectly preserved, and she will be the third bride in the family to be wearing it. I love traditions like that. In keeping with the 1940s idea, they wanted their engagement portraits to have a retro vibe. I hand picked some of my favorite locations for this shoot, including the old Tasty Freeze on North Weber and the fascinating, underappreciated Trolley Car Museum in Roswell. I think these settings made a perfect backdrop for their cute pictures! Also, Diana is a fan of vintage style, and she has the perfect, va-voom hourglass figure to pull off 1940s and '50s fashions like this wiggle dress. She looked fantastic! Meanwhile, Cody looked pretty cool himself in his newsboy cap and suspenders. Great styling all around!
I think Cody and Diana's fun, upbeat personalities and obvious chemistry really shine through in these cute pictures. How can you not smile when you're looking at them? I can't wait for their wedding, it's going to be such a blast!