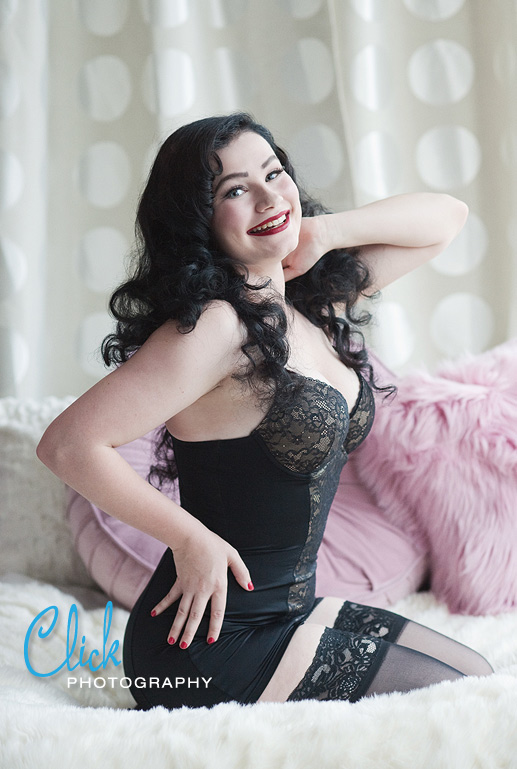 I love doing pinup photography! In fact it's not just fun for me, it's fun for my clients, too. It's such a lark! I like to think of pinup photo shoots as a sort of elaborate, vintage-themed cosplay, much like steampunk. There's something very feminine and sexy about vamping things up in a vintage kind of way. Men love it, trust me on that! Don't quote me on this, but I suspect it has something to do with high heeled pumps and ruby red lips. 😉
Most of my pinup photography clients don't style themselves like this in their day to day lives; they do a pinup photo shoot to inhabit a sexy (but not too sexy) calendar girl persona for a few hours. Added bonus: these pictures are always a big hit with your significant other! And imagine having these sassy portraits to show your grandkids one day. What fun!
So check out these saucy snaps of Marian, who came to me for a pinup photo shoot a few days ago. She was transformed for an afternoon from a modern career woman to the epitome of the classic pinup dream girl of the silver screen, and wow! She looks like she could be in a 1950s movie opposite a hunk like James Dean, Rock Hudson or Marlon Brando! Hubba hubba! Sophia Loren, step aside, there's a new starlet in town!
Marian and I did use the wardrobe at my studio for this portrait session, and the jewelry is from my own large collection of vintage baubles and accessories. I've been collecting them for years and I love using them in photo shoots.
Honestly, Marian is certainly gorgeous any day of the week, but I think she looks extra beautiful in these pictures. You go, girl! As Humphrey Bogart would have said, "Here's looking at you, kid!"