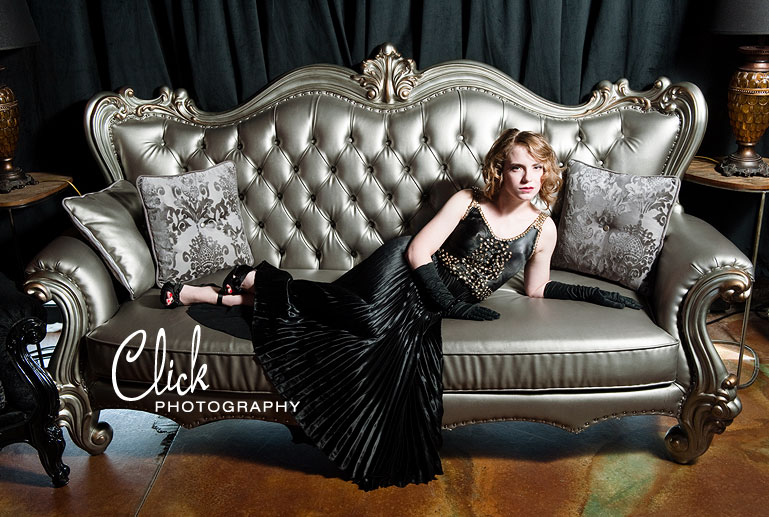 My friends know me as a person with a lifelong passion for vintage clothing and style. I have a serious collection that I've been adding to for decades. So a couple of years ago when I acquired some genuine stage costumes of a late 1940s-early 1950s performer, I was over the moon! It took me a while to find a model who could fit into them, then the perfect location had to present itself (the fabulous Cork & Cask), but I was finally able to make a photo shoot happen with a couple of the pieces. It was so much fun!
The dancer and performer who owned these pieces was named Claire Gerber. She married her first dance partner, Howard Marlow, right out of high school, and they plied their entertaining, acrobatic act on stages all over the US and even on cruise ships. I acquired a handful of Claire's stage costumes, but they're so tiny that even my extremely petite model, Ember, could only fit into one of them! That's the bias cut, crystal beaded black gown you see here. (I will find an even smaller model and do a shoot with the rest of Claire's costumes someday soon!) The pale green dress is much longer and a tiny bit larger than the black one. I learned that it had belonged to one of Claire's bridesmaids, which explains the size difference. It has a distinctly late 1940s look to it, so I suspect it must have been from Claire's first marriage, to dancing partner Howard — she went on to divorce and remarry three more times. If you'd like to see pictures of Claire and Howard, check out the comments on THIS Facebook post.
This is one of the funnest personal photo shoots I've done lately. I can't wait to do more with Claire's beautiful stage wardrobe.