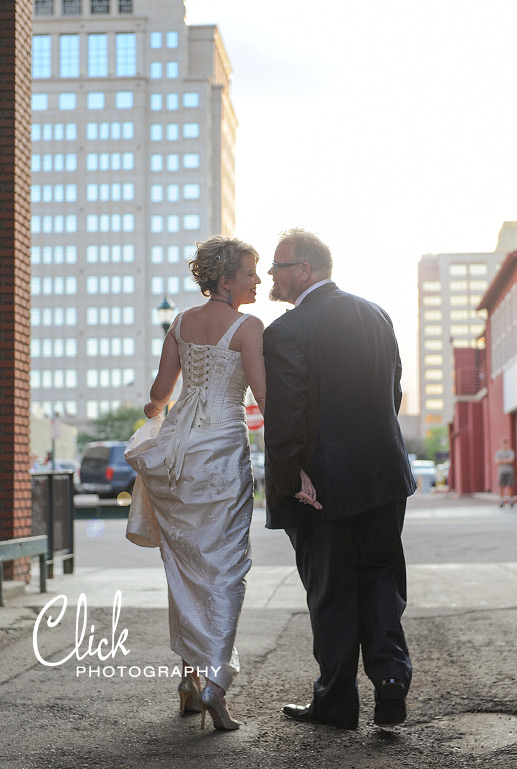 Another wonderful downtown Colorado Springs wedding! What can I say about this amazing, unique event? I've documented a lot of nuptials, but never one quite like this. Lauren and Ben did it their way, from the Nerf "ammo" ring holder to the eighteen piece, award winning jazz orchestra that had the reception jumping.
Ben and Lauren's vows took place in Ivywild at the quirky Millibo Art Theatre, a one off occurrence indeed. Many of their friends participated in the ceremony, either by speaking, playing a musical instrument, or singing — it was the most entertaining wedding I've ever witnessed. In fact, even Ben and Lauren performed, and the best part was the audience sing-along at the end. I'll never forget that!
We did many of the wedding portraits at 291 Distillery on South Tejon. I love the interior there. It's funky and industrial, and the light streaming through the front window is so dramatic. The reception was at Colorado Craft, the new downtown Colorado Springs brewery in the Tejon Street space vacated by The Ritz, and the party was hoppin'! Lauren and Ben skipped some of the usual wedding traditions. There was no cake cutting, garter or bouquet tossing. There were, however, some wonderful, funny and heartfelt speeches, and their first dance was romantic and theatrical, just like the couple. They also performed for their guests, both behind the mic and on the piano. I can't say that I've had many wedding couples who are as musically gifted as these two!
What a fantastic day! We laughed, we cried, we sang, and it was wonderful.
 Congrats Lauren and Ben!