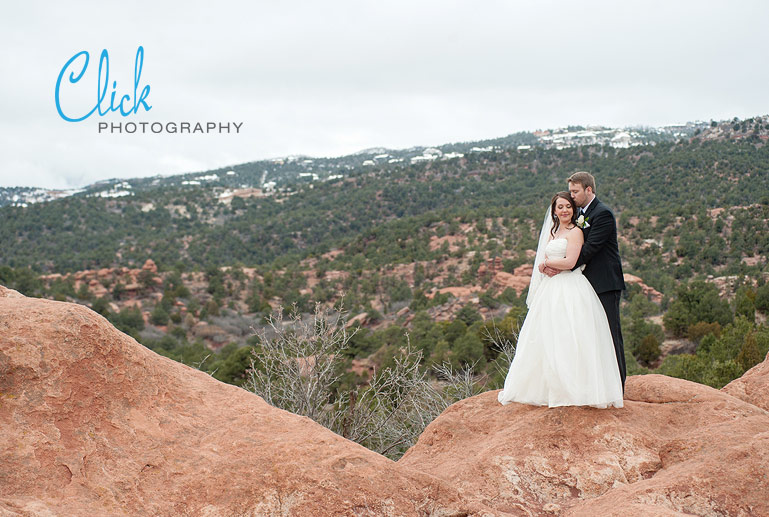 Zach, Cierra and their loved ones came all the way from Minneapolis for their beautiful Cliff House at Pikes Peak wedding. As luck would have it we had a light dusting of snow the night before, so the Garden of the Gods was looking extra pretty for their wedding portraits. Although Minnesotans are certainly used to chilly weather, the view of snowy Pikes Peak was something unique for them. I think everyone at this celebration fell a little in love with Colorado that day!
Cierra wore a pair of gorgeous blue velvet shoes that she bought a few years ago and kept at the ready for her future wedding. She also wore her grandmother's vintage fur capelet, which was a lovely personal touch. She was just as pretty as a picture! Zach, you are a lucky guy!
Yes, I'm a shoe fanatic and Cierra's were extra beautiful, but I have to say that my favorite part of their wedding was their emotion laden vows and the way this sweet couple looked at each other. He  just couldn't stop smiling at her and it was adorable. Zach and Cierra have been together for a long time and have weathered a few storms together, and they were more than ready to make it official. The happiness was palpable!
The Cliff House at Pikes Peak is a great place for a wedding. Not only is it conveniently close to the Garden of the Gods, the building itself is beautiful, romantic and historically significant. Zach and Cierra, congratulations on tying the knot! Your happiness shined through!