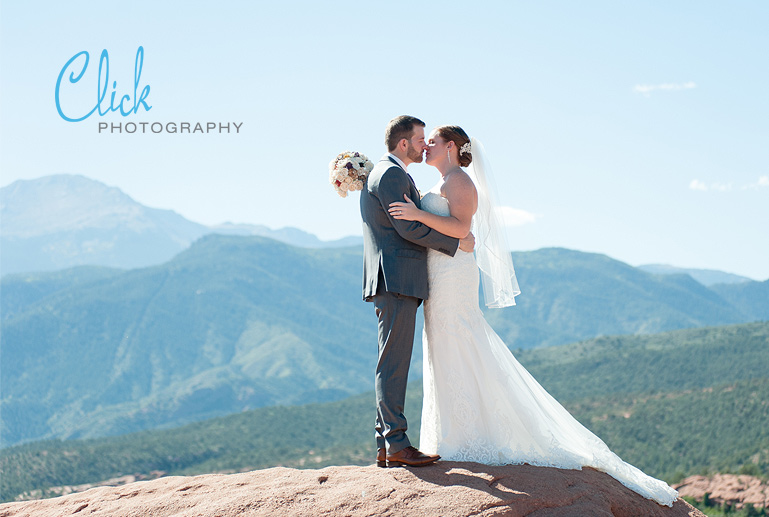 Another beautiful Cliff House at Pikes Peak wedding! Just look at this gorgeous couple! Josh is from here (Manitou Springs, to be exact), but Melissa is a recent transplant from Michigan, and she definitely wanted a mountain wedding. No midwestern nuptials for her — she loves it here and is fast becoming a real Coloradoan!
We took advantage of the beautiful weather to take a few wedding portraits in the Garden of the Gods before the ceremony. As usual, the light was spectacular! I think Josh and Melissa's large wedding party was quite dazzled by the view. They couldn't stop taking cell phone pictures, and I don't blame them. I never take our natural beauty for granted.
After Melissa and Josh made their heartfelt vows in an emotional ceremony, the big bash commenced! It was a really fun party, and Melissa's painstakingly handmade wedding details in purple and gold perfectly enhanced the Cliff House's beautiful, historic ballroom. I was so impressed by her skills (custom wood burning, anyone?!?)! Everything from the bouquets to the table decor was lovingly made by her. Wow! She really went all out, and as you can see, she has great taste. The ballroom looked fantastic! All of her hard work really paid off. And let's talk about the crazy, fun dancing — I always find that midwesterners love to cut loose on the dance floor, and Josh and Melissa's guests didn't disappoint!
I really enjoy documenting a Cliff House at Pikes Peak wedding. It's such a beautiful, gracious building from another era, and I appreciate working with the staff there, who are always lovely. Josh and Melissa's wedding was truly a perfect, fun, joy filled event, and I couldn't be happier for this beautiful couple. Warmest congratulations and happy honeymoon, you two! I had a ton of fun photographing your big day!