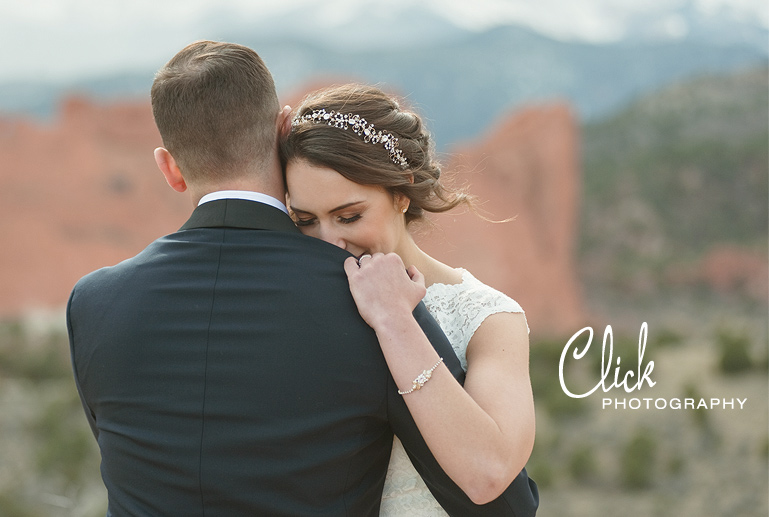 I have been dying to share the pictures from this beautiful Garden of the Gods Club wedding! Anna and Jon, along with their families and closest friends, traveled all the way from Chicago and parts beyond to celebrate their union at the beautiful Garden of the Gods Club. Anna was so giddy and animated, it was a joy to capture her happiness, and as for Jon, he just couldn't stop smiling!
Springtime weather in the Rockies is, as you know, a little fickle! Our day started out with sunshine, and the mild weather held up nicely throughout the pre-ceremony portraits. But half an hour before the outdoor ceremony was to begin, the skies suddenly darkened, the temperature plummeted and rain started to come down. Plan B was put into action! All the chairs were moved from the lawn to the covered patio, the heaters were turned on, and the fire pits were lit. Then suddenly, just as the processional was about to commence, the rain stopped and the sun burst through the clouds, bathing the entire ceremony in a golden glow. Mother Nature really put on a gorgeous show for us. It was fantastic!
The reception was a ton of fun. Jonathan's family is Jewish, so the highlight of the night for me was the hora. It's always such a blast! Even Jon's four year old niece and septuagenarian grandma got a ride in the chair. Talk about a fun party!
I love any opportunity to document a Garden of the Gods Club wedding, and this one was extra special. I had the best time! Congratulations to you, Anna and Jon! Happy honeymoon!