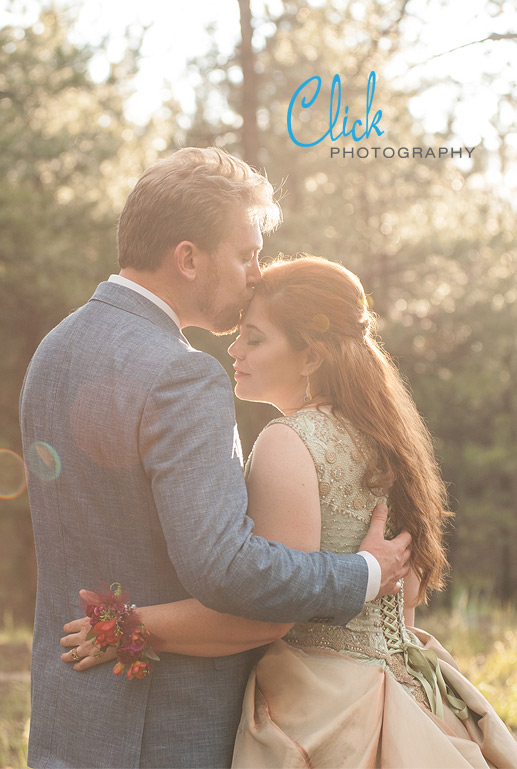 I was extra excited for Taryn and Nathan's wedding at La Foret because I knew it would be fun and different. They didn't disappoint! Everything from the thousand origami cranes in every color to Taryn's labor of love, the wedding dress she spent months hand-beading, was unique, offbeat and very personal.
Taryn owns a bead shop in Old Colorado City, and she's (obviously) an expert in the medium. Her wedding dress was truly a bespoke, original work of art. She knew she didn't want to wear white, so she went in search of something different. The bodice is a Mary McFadden piece from 1980 found in a vintage shop. Taryn modified it with the help of a sewist friend, Karen Holloway, by removing the sleeves and changing the back closure from a zipper to dramatic corset lacing with a modesty panel. She augmented the existing beading with even more hand-done bead work. The skirt is a custom-made piece. Taryn added a lace panel in front and tons of exquisite bead work to tie it in with the bodice. The process took months, and the result is just gorgeous! Best of all, underneath it she wore green platform Chuck Taylors!
But the dress wasn't the only handmade thing in this wedding. The aforementioned origami cranes, the boutonnieres, the jewelry, the table centerpieces, and all the rest of the décor were all created by Taryn and Nathan with the help of their good friends and loved ones. It was all so colorful! And in addition to all of the visual loveliness, Nathan serenaded Taryn during their vows, which brought everyone to tears. (Me included.)
Everything about this fun and funky La Foret wedding reflected Taryn and Nathan's relationship and their creative personalities to a tee. To cap it all off, thanks to the rain we were rewarded with a huge rainbow over the meadow. It was just lovely and romantic and beautiful. I had the best time documenting this special day.